Slope 3
About Slope 3 Game
Slope 3: The Thrilling Endless Running Experience
Slope 3 adds another exciting chapter to the celebrated Slope series, delivering an exhilarating endless running game that will keep players on the edge of their seats. In this game, you take control of a rolling ball as it navigates a series of slopes, dodging obstacles, and aiming for a high score.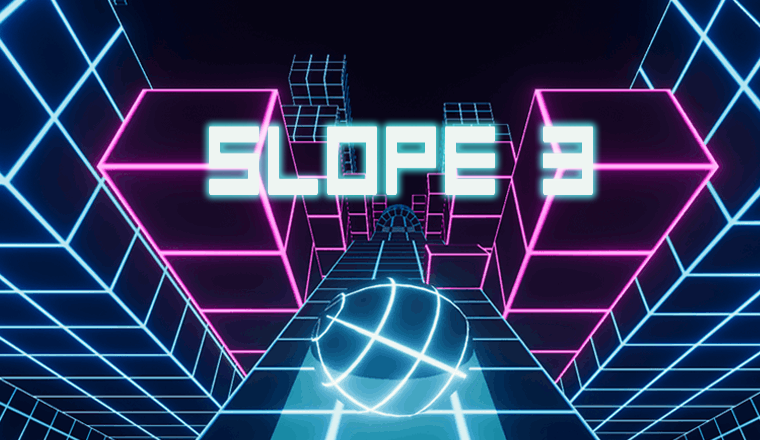 How to play Slope 3
Playing Slope 3 is an action-packed adventure that requires quick reflexes and precise control. Here's a step-by-step guide on how to embark on this thrilling journey:
Step 1: Game Initiation
Begin your Slope 3 adventure by launching the game on your preferred gaming platform. Prepare to take on the slopes and face the challenges that lie ahead.
Step 2: Control the Rolling Ball
As a player, your mission is to skillfully control a rolling ball as it journeys down a series of slopes. Navigate this ball with precision and keep a keen eye on the road ahead.
Step 3: Race for a High Score
Your primary objective in Slope 3 is to keep the ball rolling for as long as possible without crashing into dead walls or falling into the deep space. The game presents a progressive challenge where the ball starts slow but gains speed as you progress. With each successful jump, your score increases by 1 point. The game features an endless course with no levels or stages, so your goal is to achieve the highest score possible.
Game Rules
Slope 3 is governed by straightforward yet demanding rules:
Obstacle Avoidance: To succeed, you must navigate the ball past a variety of obstacles, including crazy moving obstacles, treacherous pits, roadblocks, and tricky objects on the slopes. Colliding with these obstacles or falling into the deep space ends your race.

Balancing Act: The ball's speed increases progressively, making it more challenging to maintain control. Avoid holding the keyboard keys for extended periods, as the ball's response is in real-time, and oversteering can lead to a fall.
Features of the Slope 3 Game
Slope 3 offers a range of features that make it an addictive and captivating gaming experience:
1. Endless Challenge
Slope 3 provides an endless racecourse, ensuring that the excitement and challenge continue without interruption.
2. Progressive Difficulty
The game's progressive speed increase adds to the challenge, testing your reflexes and control as you race downhill.
3. Competitive Leaderboard
Compete with other players to secure a place at the top of the leaderboard. Track your achievements and strive to become the most admirable player.
Conclusion
For fans of the Slope series and anyone seeking an adrenaline-fueled gaming experience, Slope 3 is a must-try. This endless running game challenges your reflexes and precision as you control a rolling ball through a series of slopes and obstacles. Aim for the highest score, compete with other players, and conquer the endless racecourse. Slope 3 isn't just a game; it's an addictive adventure that will keep you engaged and returning for more, all while testing your gaming skills to the limit.
Discuss Slope 3