Slope 2
About Slope 2 Game
Slope 2: Embrace the Excitement of Endless Running
Slope 2 stands as one of the most exhilarating endless run games in the gaming landscape. This game offers players the thrill of controlling a ball in a high-speed slope race, challenging them to push their limits and ascend to the top of the leaderboards.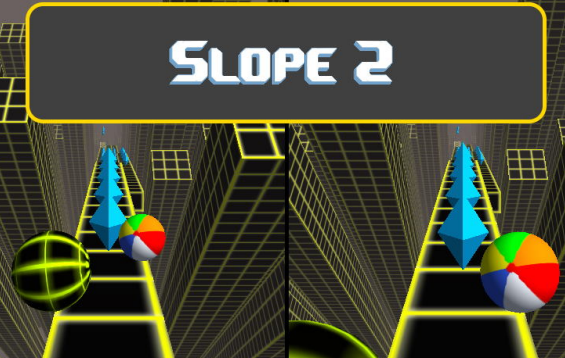 How to play Slope 2
Playing Slope 2 is a dynamic and engaging experience. Here's a step-by-step guide on how to dive into the heart-pounding world of endless running:
Step 1: Game Initiation
Begin your Slope 2 adventure by launching the game on your chosen platform. Prepare for a race like no other.
Step 2: Control the Ball
As the player, you'll be tasked with controlling an auto-running ball. Navigate it skillfully as it descends down a 3D course that seamlessly blends a retro atmosphere with surreal high-tech elements. The game unfolds at a breakneck pace, demanding your swift reactions.
Step 3: Race for Distance
Your primary goal is to maintain control of the ball for as long as possible while covering the greatest distance. Achieving the highest score in the endless course is the ultimate objective.
Game Rules
Slope 2 boasts simple yet challenging rules that keep players engaged:
Obstacle Avoidance: As you descend down the hill, you'll encounter various obstacles, including incredibly narrow pathways. Any misstep can result in the end of your race, requiring you to restart the game.

Stay Clear of Danger: Avoid falling into the deep space and refrain from touching the deadly red walls. Interaction with these obstacles signals the end of your race. Additionally, the ball's speed increases over time, adding to the challenge.
Features of the Slope 2 Game
Slope 2 offers a range of features that make it a captivating gaming experience:
1. Competitive Leaderboard
Track your achievements and compete with other players for top honors on the leaderboard. Measure your skills against the best and strive to secure a place at the pinnacle.
2. Mesmerizing 3D Graphics
Immerse yourself in the visually stunning world of Slope 2, featuring eye-catching 3D graphics that combine seamlessly with the game's unique aesthetic.
3. Engaging Soundtrack
Enjoy the game's funky music and cool art animations, enhancing the overall gaming experience and adding to the adrenaline rush of high-speed racing.
4. Reflex and Reaction Improvement
Slope 2 isn't just about entertainment; it also serves as a platform to enhance your reflexes, reactions, and hand speed. The fast-paced gameplay provides a challenging environment for skill improvement.
Conclusion
For fans of the Slope series and anyone seeking an adrenaline-packed gaming experience, Slope 2 is the ideal choice. This endless-running game set in a futuristic space offers a unique blend of retro vibes and high-tech surrealism, delivering hours of excitement and challenge. Take control of your auto-running ball, master the course, and strive for the highest score. Slope 2 is not just a game; it's a thrilling journey that will keep you engaged and coming back for more, all while improving your gaming skills.
Discuss Slope 2