Slope
About Slope Game
Slope: An Exhilarating Endless Racing Game
Slope is a heart-pounding endless racing game that firmly places itself in the category of tremendous racing experiences. With its lightning-fast pace and addictive gameplay, Slope takes players on an exhilarating journey, guiding a ball through a track adorned with mesmerizing neon lights and unique design.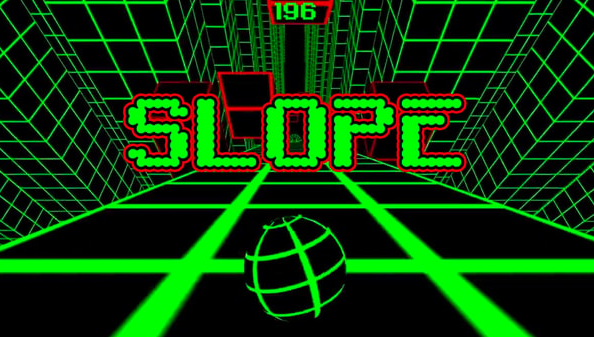 How to play Slope
Playing Slope is a straightforward yet thrilling experience. Here's a step-by-step guide on how to dive into the world of high-speed racing:
Step 1: Start the Game
Launch Slope on your chosen gaming platform or web browser to kick off your racing adventure.
Step 2: Guide the Ball
Your primary objective in Slope is to guide the ball along a track filled with twists, turns, and slopes. Use your keyboard or device controls to maneuver the ball.
Step 3: Avoid Falling or Colliding
The key challenge in Slope lies in maintaining balance and precision. The track's slope and speed continuously change, making it imperative to avoid falling off the track or colliding with obstacles.
Step 4: Keep Going
The game continues as long as you can keep the ball on the track. Aim to achieve the highest score possible and compete against your own records or those of other players.
Game Rules
While the rules of Slope are simple, they provide an engaging and challenging gaming experience:
Balance and Precision: Your primary goal is to maintain balance and prevent the ball from falling off the track or colliding with obstacles. Falling or crashing leads to an immediate end of the game.
Features of the Slope Game
Slope offers a range of features that make it an outstanding racing game:
1. Mesmerizing Neon Aesthetics
Immerse yourself in the captivating world of Slope, where neon lights adorn a uniquely designed track, creating a visually stunning gaming experience.
2. Fast-Paced Gameplay
Experience the thrill of high-speed racing as you navigate the ball through a track that constantly challenges your reflexes and precision.
3. Addictive Challenge
Slope offers addictive gameplay that keeps you coming back for more. The challenge of achieving the highest score and mastering the track's dynamic elements is irresistible.
4. Leaderboards and Competitions
Compete against friends and players from around the world by striving to beat high scores and climb the leaderboards.
Conclusion
For those seeking an electrifying racing experience that tests their reflexes and precision, Slope is the game to play. With its mesmerizing neon aesthetics, fast-paced gameplay, and addictive challenge, Slope offers hours of exhilarating entertainment. Take on the track, guide the ball, and see how far you can go. Slope is more than just a game; it's a thrilling adventure that will keep you engaged and coming back for another heart-pounding ride.
Discuss Slope