Retro Bowl College
About Retro Bowl College Game
Retro Bowl College: Reliving Gridiron Glory – An In-Depth Overview
In the realm of mobile gaming, Retro Bowl College has emerged as a true gem, captivating sports enthusiasts and gamers alike with its unique blend of retro aesthetics and engaging gameplay. This article will dive deep into the heart of Retro Bowl College, shedding light on the captivating features and mechanics that make it a must-play for fans of college football and nostalgic gaming.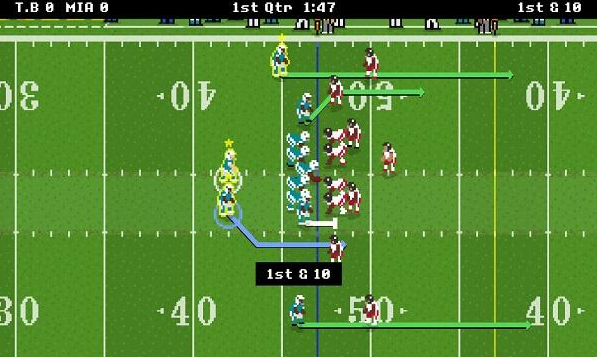 How to play Retro Bowl College
Playing Retro Bowl College is a straightforward and enjoyable experience. Here's a step-by-step guide on how to get started:
Step 1: Build Your Team
Begin your college football journey by assembling your dream team. Choose players, strategize positions, and create a powerhouse of a squad that can take on any opponent.
Step 2: Lead Your Team
As the coach, it's your responsibility to lead your college football team to victory. Develop game plans, make critical decisions during matches, and guide your team to gridiron glory.
Step 3: Compete and Dominate
Participate in thrilling college football matches against formidable opponents. Execute plays, score touchdowns, and rise through the ranks to establish your team as a force to be reckoned with.
Game Rules
Understanding the rules of Retro Bowl College is essential to master the game:
Team Management: Build and manage your college football team, making crucial decisions about player recruitment, positions, and strategies.

Match Gameplay: Engage in head-to-head matches against other college teams. Execute plays, score touchdowns, and employ effective defense strategies to secure victory.
Features of the Retro Bowl College Game
Retro Bowl College offers a range of exciting features that elevate the overall gaming experience:
1. Authentic Retro Aesthetics
Immerse yourself in the nostalgic world of retro graphics and aesthetics. Retro Bowl College captures the essence of classic gaming, providing a trip down memory lane for gamers who appreciate the vintage feel.
2. Team Building and Management
Experience the thrill of building and managing your college football team. Select players, create lineups, and make strategic decisions to lead your team to success.
3. Engaging Matchplay
Engage in intense college football matches that will test your skills as a coach and strategist. Execute plays, adapt to opponents' strategies, and aim for victory.
4. Progression and Rankings
Rise through the ranks as you accumulate victories and showcase your coaching prowess. Compete against increasingly challenging opponents and establish your team as a college football powerhouse.
Conclusion
For sports enthusiasts and nostalgic gamers alike, Retro Bowl College offers an exciting and enjoyable gaming experience. With its authentic retro aesthetics, team management mechanics, engaging matchplay, and a sense of progression, Retro Bowl College is a must-play for anyone looking to relive the gridiron glory of college football. Dive into the world of college football coaching, lead your team to victory, and bask in the nostalgia of this captivating mobile game. Retro Bowl College is a true gem in the world of mobile gaming that deserves a spot on your device.
Discuss Retro Bowl College